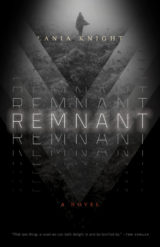 Remnant
is a dystopian novel set in the near future in the American Midwest, published by independent US publisher
Burlesque Press.
You can buy the book
here
.
What have reviewers said about Remnant?
Paul Taylor McCartney of
Everybody's Reviewing
says 'Knight has a keen ear for the musicality of language, almost at word level, providing a wealth of striking imagery on almost every page…'
Merry Byrd of
FemSpec
says 'Knight's world-building is quite remarkable in a novel so spare and taut.'
Cheryl Morgan of
Salon Futura
says '
Remnant
is a dystopia, which is pretty much par for the course for feminist SF, but it is unlike any I have read before.'
Wondering what it's about? From the book jacket:
They told her she would become the queen.
The world lies in ruins. For years, only one part of Illinois has remained alive and thriving: the Compound and its territories. In a farmhouse beside an orchard, a young girl grows up, waiting to take her place as the ruler and protector of this land.
She will discover, however, that the old queen, a scientist who extends her own life by stealing the bodies of the young, has no intention of giving up power. Indeed, the entire Compound is locked in a decaying cycle of cloning, repetition, and murder.
With the help of a few friends brave enough to imagine a better world, the girl will struggle to escape the Compound, and to alter the destiny carried in her genes.
—
Here's what others are saying about Remnant:
"
Possessing echoes of Cormack McCarthy and David Vann, Remnant balances its disquieting and at
times horrific narrative with a prose style that is both spare and achingly beautiful. As with all the best dystopian fiction, we are content to lose ourselves in its otherworldliness, whilst all too aware such a future may not be so far away after all. Functioning as both thriller and warning, Remnant is that rare thing: a novel we can both delight in and be terrified by. An important book, and one we hope is not prescient. Stunning."
Tom Vowler, author of Dazzling the Gods
"
Remnant
is a marvelous, multi-faceted odyssey. Knight guides us through a brilliantly conceived world destroyed by means with which we are already familiar: genetic manipulation, corporate greed, and environmental mayhem. She illustrates the many ways scientific recklessness, and moral ignorance can corrode the soul."
Moira Crone, author of The Not Yet
"In this novel, Lania Knight has created a fascinating, if disturbing, world. The reader must use every sense to take in the dystopia of genetic collapse, crags, cruelty, and stunted growth. It is
disorienting, but Knight draws us in as she invents often-stunning language to name the strangeness. The landscape she creates is large, but it is also intensely local in its sensuous proximity to the lush dis-ease of distressed bodies. Out of the wasteland horror, a strange remnant of hope grows for those who find their way to the pragmatic wisdom necessary for survival in this strange world, and possibly our own world as well—'Never believe what you see. Only believe what you know.'"
Ray Barfield, author of The Book of Colors
"Remnant is like nothing I've ever read. Lania Knight creates a world that is wholly original even while it is completely believable—and recognizable—and the characters within this world are as complex as they are compelling. If you think there's nothing new to be found in dystopian fiction, think again—and get yourself a copy of this book immediately."
Letitia Moffitt, author of Sidewalk Dancing
"With spare, vivid prose, Lania Knight conjures a devastating vision of humanity's future that feels uncomfortably possible."
Jennifer Steil, author of The Ambassador's Wife
—-
And
here's a link
to some of the reading I did as I was writing
Remnant
.
If you're in the UK,
I'll be reading
at St Andrews Church, Montpellier Street in Cheltenham on 12th April 2018 at 7pm, and at the
Cheltenham Poetry Festival
22nd April 2018, 7pm, Playhouse Theatre Cheltenham.